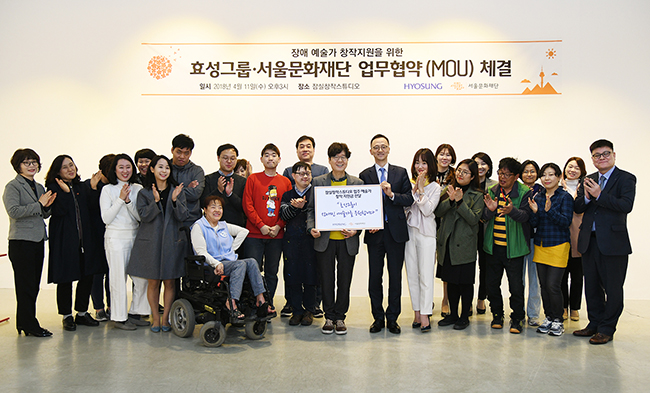 As part of its support for cultural and arts, Hyosung will sponsor the creation and exhibition expenses for artists at Art Space Jamsil Seoul Foundation for Arts and Culture (SFAC).

Hyosung delivered a donation of KRW 50 million at the opening of "mumu," a special exhibition held at the Platform-L Contemporary Art Center in Gangnam-gu, Seoul on October 16.

The exhibition featuring about 70 works of 12 artists of Art Space Jamsil, including paintings, photographs, installation arts, and crafts will be held for two weeks from October 16 to 30. The theme of this exhibition is various "barrier free " exhibition environments.

The donation will be used for material purchases and exhibition costs of 12 artists at Art Space Jamsil. Hyosung has provided support since 2018, and last year, artworks were displayed through the special exhibition "Flowing Flow."

Art Space Jamsil is the only creative space for artists with disabilities in the visual arts sector operated by the SFAC. Each year, 12 artists with disabilities in the visual arts are selected and provided with a space in the studio, and more than 120 talented artists have been selected.

Meanwhile, Hyosung has sponsored "Onnuri Sarang Chamber," an orchestra composed of disadvantaged children and adolescents since 2014 and has continued its mecenat activities designed for vulnerable groups to enjoy culture, such as hosting "Purme Little Concert", which invites disabled children and their families since 2015.


[1] Barrier-free (culture and arts) is a measure to solve the problem that people with disabilities or the elderly cannot enjoy artworks due to physical limitations



*About Hyosung : Hyosung Corporation is a South Korean industrial conglomerate, founded in 1966. It operates in various fields including heavy Industrial machinery, advanced materials, chemical industry, and textiles. Its CEO is Hyun-Joon Cho and the headquarter is in Mapo-gu, Seoul. Hyosung has a global network of about 90 sites in the U.S., China, Europe and other parts of the world, with about 30,000 employees. Tire reinforcements, spandex, and seatbelt yarns are No.1 in global market share.