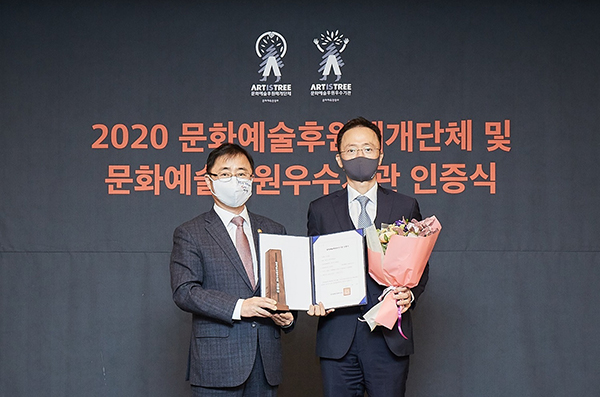 Hyosung was certified anew on 28th as an exemplary entity in 'the provision of support for culture/arts at a ceremony' hosted by the Ministry of Culture, Sports, and Tourism (MCST).
This year marks the sixth anniversary of said certification following the enactment of the Act on the Revitalization of Support for Culture and Arts in January 2014. The certification is hosted by MCST and sponsored by the Arts Council Korea (ARTCO). ARTCO selects such exemplary entities through the evaluation of diversity, continuity, and operating system of mecenat (patronage) movement carried out by businesses. The certification is valid for three years. This year, 13 businesses including Hyosung were recertified.
Hyosung has provided positive support for the culture/art sectors as part of its diverse social contribution activities, including its support for 'Yoyoma & Silk Road Ensemble' led by world-famous cellist Yoyoma, Onnuri Love Chambers -- an orchestra composed of young people with development disability -- and 'Jamsil Creation Studio' for disabled artists specializing in visual arts.
"We wish to build a society where more people can access culture/arts more easily and share the joy of enjoying them with each other through continued support for them," Hyosung Chairman Cho Hyun-joon said.