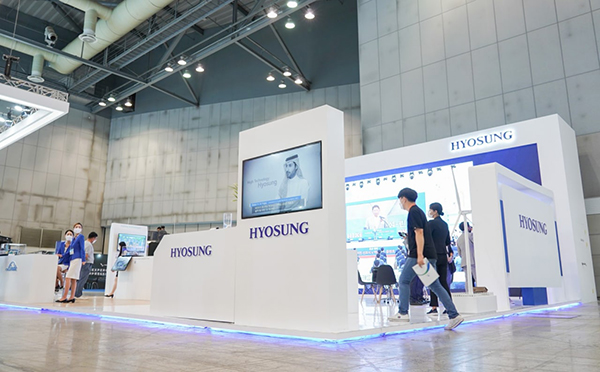 Hyosung participated in the ″Hydrogen Mobility+ Show,″ the largest hydrogen industry exhibition in Korea, at KINTEX in Goyang, Gyeonggi Province, from August 8 to 11.
Hyosung′s exhibition presented the image of the future liquefied hydrogen era with 3D images and exhibition models focusing on liquefied hydrogen plants and charging stations and featuring the entire process of production, distribution and utilization of hydrogen.
Hyosung also emphasized its omnidirectional hydrogen value chain by displaying hydrogen vehicle fuel tanks made of carbon fibers and models of wind power generators, which supplies new and renewable energy that is a key component for producing green hydrogen.
Hyosung Vice Chairman Cho Hyun-sang attended the inaugural general meeting of the ″Korea H2 Business Summit,″ in which the CEOs of 15 domestic companies participated.
Vice Chairman Cho said in the meeting, "Hyosung covers the whole hydrogen ecosystem including production, supply, storage, and utilization of hydrogen.″ "We will expand R&D investment in future energy materials and parts such as batteries, fuel cells, and mobility bodies," he added.
After attending the meeting, Vice Chairman Cho visited the Hyosung Booth and other exhibitions to get in touch with the latest trends of the hydrogen industry. He also met with domestic and foreign hydrogen experts and executives and stressed that they should work together to revitalize the hydrogen economy with technological development and early occupation of the market.
Meanwhile, Hyosung announced last June that it and Linde Group will build a 13,000-ton liquefied hydrogen plant at Yongyeon plant in Ulsan by 2023 under the vision of "Building a carbon-neutral Korea on hydrogen technology." It had also announced plans to develop blue hydrogen by using CCUS (Carbon Capture, Utilization and Storage) technology and green hydrogen utilizing eco-friendly energy such as wind and solar power.