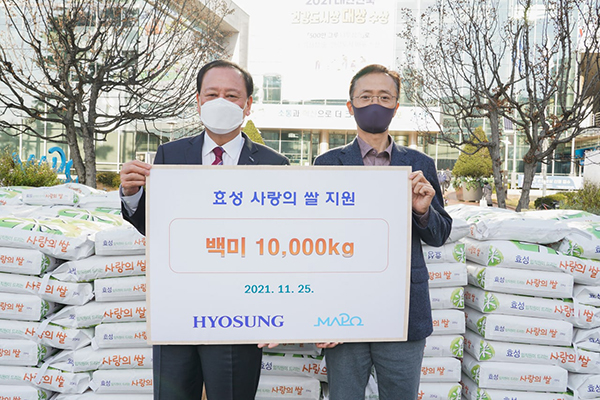 On November 25, Hyosung delivered 500 bags of 20 kg white rice to the underprivileged in Mapo-gu, who are trying to overcome the difficult winter amid the COVID-19 crisis.
Hyosung has been conducting sharing of Rice with Love for the underprivileged residents in Mapo-gu every year for 16 years since 2006. The Rice with Love donated this year will be delivered non-face-to-face to 500 households through the Mapo-gu Office.
To add meaning to sharing of Rice with Love, Hyosung has been purchasing rice from Gunbuk Agricultural Cooperatives in Haman-gun, Gyeongnam Province, which is Hyosung′s sister village. The program has a double advantage of helping farmers who are having difficulty selling rice and delivering high-quality Korean rice to local residents in Mapo-gu.
Meanwhile, Hyosung continues to support the underprivileged under the social contribution slogan, ″We will be together through sharing.″ On November 4, the company donated 30 million won to the Mapo-gu Social Welfare Council to support the low-income families in Mapo-gu. On December 1, it will donate 40 million won to the year-end fundraising of Warm Winter for the vulnerable neighbors. It also plans to deliver Kimchi with Love for the Winter to 1,500 households in Mapo-gu on December 7.