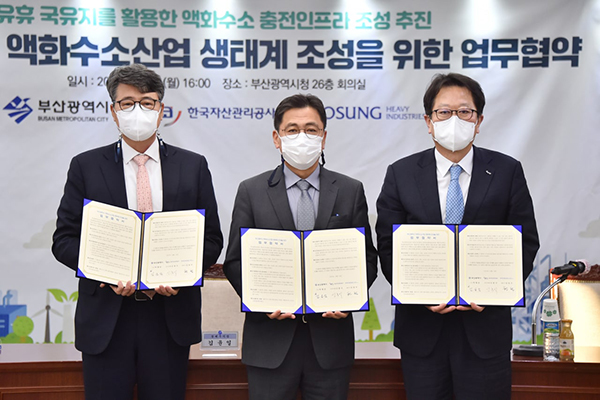 Hyosung Heavy Industries signed a ″memorandum of understanding (MOU) on creation of an ecosystem for the liquefied hydrogen industry in Busan″ with the Busan Metropolitan Government and the Korea Asset Management Corporation (KAMCO) on December 13.
The signing ceremony was attended by Hyosung Heavy Industries Executive Director Hyun Chul, Busan vice Mayor for Economy Kim Yoon-il, and acting president of KAMCO Shin Heung-shik.
The agreement was made to invigorate the hydrogen industry in Busan by building liquefied hydrogen charging infrastructure in idle state-owned land in Busan. Currently, there are only two hydrogen charging stations in Busan, which necessitates urgent infrastructure expansion.
Under the agreement, Hyosung Heavy Industries will supply liquefied hydrogen to Busan and build charging stations, and cooperate with small, but strong companies in Busan to expand hydrogen charging infrastructure. Busan City will bolster administrative support for fostering the liquefied hydrogen industry, and KAMCO will be responsible for leasing state-owned land suitable for the construction of liquefied hydrogen charging stations.
Hyosung Heavy Industries is building the world′s largest liquefied hydrogen plant on the site of its Yongyeon plant in Ulsan with the goal of full operation in May 2023. The plant will supply 13,000 tons of liquefied hydrogen annually. It also plans to build liquefied hydrogen charging stations for large commercial hydrogen vehicles in about 30 locations across the country in time for the completion of the liquefied hydrogen plant.
Hyosung Heavy Industries, the No. 1 in the domestic hydrogen charging system market in the country, has built hydrogen charging stations in more than 20 locations across the country. Hyosung Heavy Industries is working to localize technologies for liquefied hydrogen production and charging, and is also accelerating businesses and research and development activities related to new and renewable energy, including production of green and blue hydrogen.