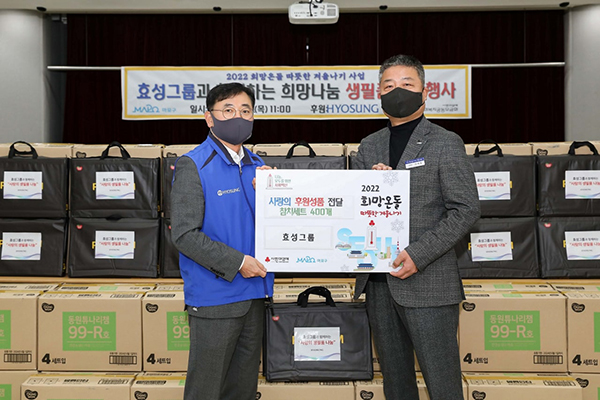 Hyosung continued its CSR activities at year end.
On December 16, Hyosung donated 400 sets of ′Daily Necessities of Love′ for the underprivileged in Ahyeon-dong, Mapo-gu, Seoul. Since 2015, Hyosung has donated daily necessities including tuna and ham sets to the Community Center in Ahyeon-dong, Mapo-gu, where its headquarters is located, twice a year.
Vice Chairman Cho Hyun-Sang, head of the Hyosung Sharing Volunteer Group, said, ″We hope these will be of little help to our neighbors struggling with COVID-19.″
On December 14, the Hyosung Sharing Volunteer Group donated KRW 11 million to the Janggunbong Public Childcare Center located in Gwanak-gu, Seoul. The childcare center is planning to use the donated amount for its children′s cultural activities and Christmas party as well as the upgrade of its facilities.
Hyosung is practicing sharing for the local community under its social contribution slogan ″We will stand by you by sharing.″ Recently, Hyosung has delivered 10 tons of ′Rice of Love′ and 1,500 heads of ′Kimchi of Love′ to the underprivileged in Mapo-gu while donating KRW 30 million to the Mapo-gu Social Welfare Council to support low-income families.