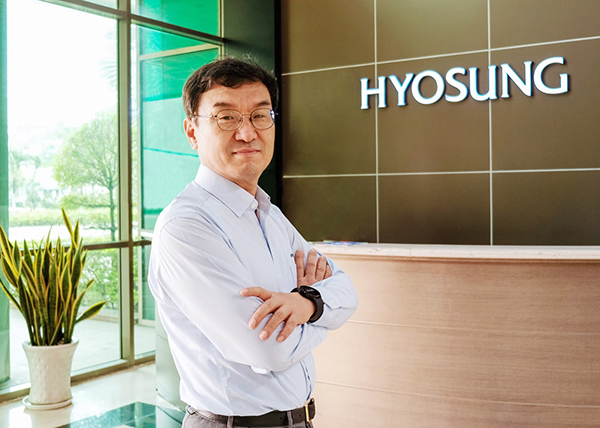 On December 22nd, Hyosung selected vice president Kim Chi-Hyung of Hyosung Vietnam as the recipient of the ′2021 Proud Hyosung-er of the Year Award.′
VP KIM was recognized for his contributions to the stable operation of factories producing the major products of the Hyosung Vietnam and Hyosung Dongnai such as spandex and tire cords through accurate analysis of local situations and prompt response to them as the head of Hyosung′s largest production base worldwide in the midst of the COVID-19 crisis.
In response to the spread of COVID-19 in 2021, the Vietnamese government took ′lockdown′ measures and sealed off some regions or industrial complexes altogether for a certain period of time. Global companies running factories in Vietnam were faced with an unprecedented crisis in which local factory operations should immediately stop unless their factory workers never left their factory premises.
VP Kim took the lead in preemptively establishing and implementing the in-house lodging and dining system, enabling the factories of Hyosung Vietnam and Hyosung Dongnai to operate normally without any setback. As a result, Hyosung has been able to supply its products to global customers without a hitch in the midst of the COVID-19 pandemic.
Meanwhile, Hyosung chose three suppliers – COTS Technology, Korea EPO, and Duckshin Engineering – as winners of the ′Special Proud Hyosung-er of the Year Award.′ The suppliers have continuously joined forces with Hyosung to improve its overall quality assurance performance and export competitiveness through their unique contributions including the development of the HVDC controller, the diversification of supply lines for export-oriented textile packaging materials, and the achievement of zero occupational accident rate, respectively.