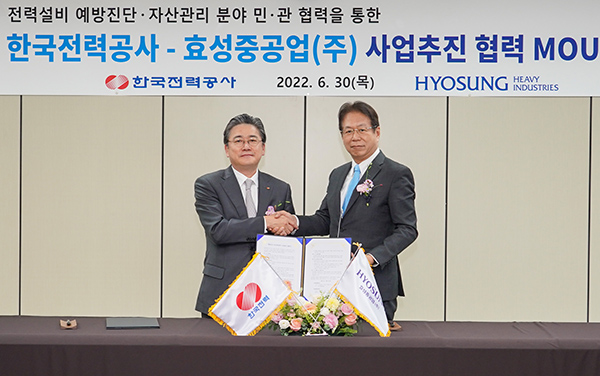 Hyosung Heavy Industries and KEPCO have signed an MOU on June 30, 2022 to build a business model for cooperation in the areas of power facility diagnosis and asset management.
The signing ceremony held at the KEPCO Art Center in Seoul was attended by Takeshi Yokota, CEO of Hyosung Heavy Industries, Cheong Seung-il, CEO of KEPCO and other guests. The MOU is aimed at creating a new integrated diagnosis and analysis solution by combining Hyosung's ARMOUR ① and KEPCO's SEDA ② while leading the inception of a new market.
Under the agreement, Hyosung Heavy Industries will spearhead the development of the integrated solution and KEPCO will contribute its cloud server, network and other technical support.
With this agreement, Hyosung Heavy Industries will successfully integrate KEPCO's extensive power facility operation know-how and cutting-edge preventive diagnosis technology into its ARMOUR, which will enable it to offer high-quality solutions that includes consistent asset management based on upgraded and cutting-edge diagnosis and analysis technology.
KEPCO's SEDA has the biggest database in Korea equipped with the technology to achieve a high level of prediction accuracy and collect and analyze a wide variety of sensor data. KEPCO and Hyosung Heavy Industries have been working together in the areas of analysis of the algorithm of power facilities and asset management technology. Based on the mutual trust built over time, both companies agreed to build a new business model together under this MOU.
The MOU ushers in a new opportunity by laying the foundation for further cooperation to create a private-public cooperation model and for securing a foothold in the preventive diagnosis and asset management solution market both at home and overseas. If customers that operate power facilities introduce the integrated solution package offered by both companies, they will be able to receive a wide range of power facility-related data on a single screen. This is on track for a new ecosystem in the preventive diagnostic and asset management system to be built up and evolved.
Hyosung Heavy Industries, a power industry leader in Korea became the first developer of the 154kV asset management system (ASM) algorithm in 2015. Since then, it has been steadily expanding its business by forming a cooperation network with various solution providers in Korea.
"We will work closely together with KEPCO to build the first industry business model in Korea and create a revolutionary milestone in the digital transformation of power facilities so as to solidify our market presence globally," said Hyosung Heavy Industries CEO Takeshi Yokota, expressing his ambitions on global expansion.