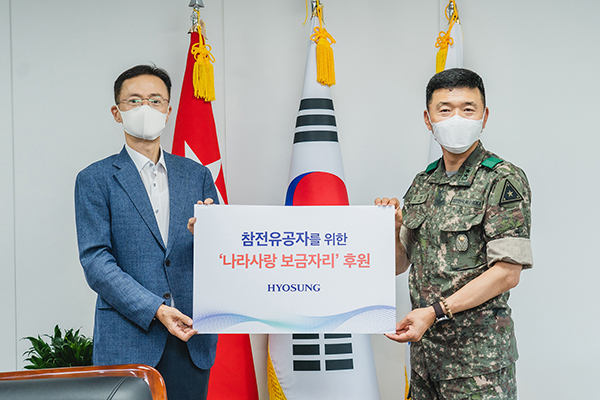 On July 19, Hyosung donated KRW 100 million to be used for a program of providing new homes to war veterans during a paid visit to the ROK Army Headquarters in Gyeryong-si, Chungnam.
This program is meant to express gratitude to Korean War and Vietnam War veterans for their sacrifice for and devotion to the country. For this program, in which the ROK Army Headquarters plays a leading role, Hyosung builds new homes or repairs old homes for war veterans experiencing financial difficulty with the involvement of the private sector and the government agencies. They also support the housing rents to those eligible to be basic livelihood security recipients for up to two years among those of national merit.
Hyosung has provided financial support for this program since 2012. Their donation, along with those from other businesses, will be spent on improvement of the living environment of a total of 12 veterans and finding rental houses for more than 100 veterans. In 2021, donations like this were spent on improvement of residences for a total of 16 Korean War veterans and finding rental homes for 98 war veterans.
Hyosung pursues in earnest social contribution activities based on three themes of support for the underprivileged, culture & arts, and war veterans of national merit under the slogan "We will be with you through the spirit of sharing." Last June, Memorial Day-Month, Hyosung employees paid a visit to the 1st Corps, the ROK Army, and delivered solatium while they engaged in voluntary activities for cleaning the graveyards of the Seoul National Cemetery.