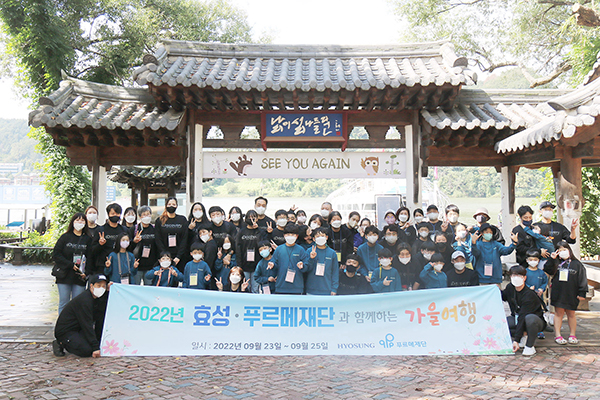 Hyosung employees, together with those from the Purme Foundation, took a fall season trip to places in Gyeonggi-do, being accompanied by the families of young people with disabilities on a three-day schedule from Sept. 23.
The said event is part of the programs for rehabilitation treatment of children/young people with disabilities provided jointly by Hyosung and the Purme Foundation. The event held in the fall of 2022 was participated by a total of 51 people among ten families of Hyosung employees and nine families of children/ young people with disabilities. The group (each team consisting of the family of an employee and the family of a person with disabilities) had a good time for two nights & three days.
On day 1 (Sept. 23), they saw the sight of a bamboo forest and the place where the popular drama Autumn in my heart was shot on Namiseom Island in Gapyeong. They also had a recreation time to encourage dialogues and communication between participants. On day 2, they paid a visit to a village in Yangpyeong and had a hands-on experience with making sundubu (soft tofu) and injeolmi, and catching trout in the stream. On Day 3, they took part in the event of making tomato gochujang (red pepper paste) and feeding animals, and strolled around inside the Yulbom Botanical Garden in Gwangju.
Commenting on the trip, the mother of a disabled child said, "Due to my child's disability status, we always found it not easy to take a trip with the whole family. This time, we could have a good time and experience a lot of things this time thanks to the well-arranged daily schedule. My child said that he would like to take another trip like this."
A Hyosung employee who took the trip said, "We could teach our kid how to get along with fellow friends with disabilities. We talked to each other a lot and did many activities that will be cherished as a fond memory."
Hyosung, together with the Purme Foundation, has provided support funds for medical rehabilitation of children with disabilities since 2013, along with the support for mental health care and education for siblings of children with disabilities, who are prone to feel alienated due to the need and efforts to take care of their disabled siblings. Last July, the Group arranged for a trip for 15 able-bodied siblings of children with disabilities.