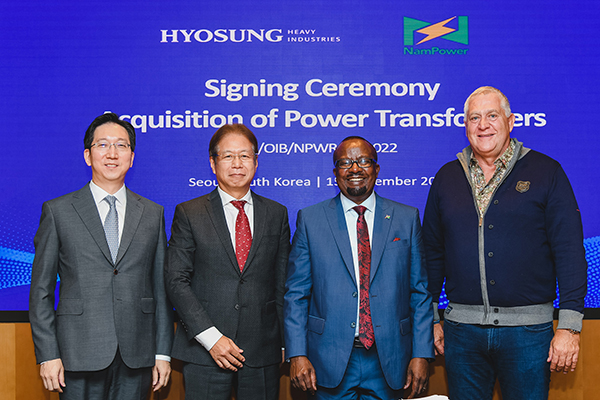 Hyosung Heavy Industries is actively engaged to display a series of noticeable endeavors on the African Continent.
On the morning of Sept. 15, Hyosung Heavy Industries formed a contract for installing ultra-high voltage transformers worth KRW 20 billion with state-run NamPower of Namibia at the Hyosung Group head office in Mapo, Seoul. With this, the Company has been awarded contracts for the new installation or expansion of existing ten ultra-high voltage transformers (132kV – 400 kV) from NamPower this year alone, and plans to deliver them by the second half of 2023. The total amount of supply contracts signed by the Company with NamPower this year alone comes to about KRW 31.5 billion. The contract formed this time is notable for highlighting the tangible result of concerted efforts made by the Company to develop power supply markets in Africa.
In regard to matter, Director Park Taeyeong in charge of the Company's new global project sales commented, "Recently, African countries recognize the importance of power supply and continue to modernize their power supply infrastructure. We have strived in earnest to develop these markets, taking a keen interest in them from the pre-COVID-19 era. Now, we are accelerating our concerted efforts to make major strides into the power supply markets of emerging countries on that continent."
Recently, Hyosung Heavy Industries has been taking more positive steps for greater business opportunities in Africa including South Africa. The Company has succeeded in winning an order for 400kV transformers to be used in private capital-based renewable energy power supply projects carried out by the South African government. It has also succeeded in winning a project for construction of a substation worth KRW 230 billion from the Ethiopian Electric Power Corporation (EEPCo), given the country's need to modernize its power supply network in the southwestern areas.