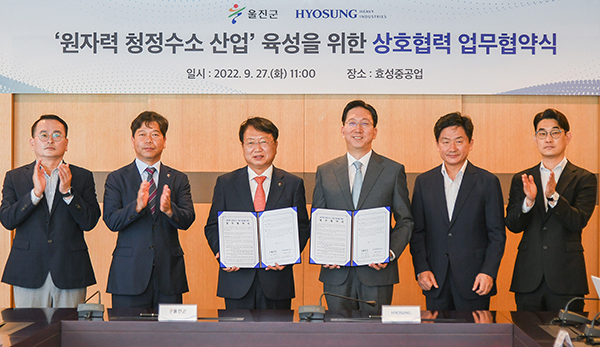 Hyosung, which has a major competitive edge over other domestic businesses, plans to build infrastructure for the production, storage, and transportation of liquid hydrogen in Gyeongbuk as it has already done in Ulsan and Jeonnam.
On Sept. 27, Hyosung Heavy Industries and the Uljin-gun, Gyeongbuk municipality formed an MOU on a project to develop the nuclear clean hydrogen industry during a ceremony held at the Hyosung's head office building in Mapo-gu, Seoul with Hyosung Heavy Industries VP Ahn Seong-hoon and Uljin-Gun head Son Byeong-bok, etc. in attendance.
The two parties have agreed to cooperate to build the infrastructure geared to robust distribution and use of large-scale clean hydrogen produced through the electricity and heat generated in the process of nuclear power generation in Uljin.
In line with the abovementioned, Hyosung Heavy Industries will forge ahead in the following domains in Uljin: △ Construction of liquefied hydrogen plants, △ provision of liquid hydrogen storage facilities and trailers /pipeline for transportation of liquid hydrogen, and △ construction and operation of liquid hydrogen re-filling stations.
Uljin-Gun municipality has agreed to provide positive administrative support for the domains Hyosung Heavy Industries plans to pursue and devise a strategy for phased progression of the project.
Hyosung Heavy Industries plans to take part in the project for building a national industrial complex for the production of clean hydrogen generated from nuclear power plants, which Uljin-Gun municipality plans to support and promote.
The said MOU marks a major accomplishment for Hyosung Heavy Industries by helping it secure its prominence as a leader in the domestic hydrogen business with the expansion of the said program to Gyeongbuk, on the heels of the country's first liquefied hydrogen facility being built by Hyosung Heavy Industries at its Yongyeon Plant in Ulsan and the green hydrogen production project linked with offshore wind power generation in Jeonnam.
In regard to the matter, Hyosung Heavy Industries V.P. Ahn Seong-hoon remarked, "We are highly enthusiastic to assume a leading role in the project for the development of a facility that will produce a large-scale clean hydrogen being advanced by Uljin-Gun municipality. We are committed to charting the way forward in our efforts to invigorate the hydrogen industry based on our technological prowess in liquid hydrogen."
Hyosung Heavy Industries is building a facility that can produce 13,000 tons of liquefied hydrogen a year at its Yongyeon Plant. The project is scheduled to be completed by 2023, and it also plans to build large-sized liquid hydrogen refueling stations, besides those slated to be built in Ulsan, Gwangyang, Geoje, and Gyeongsan.