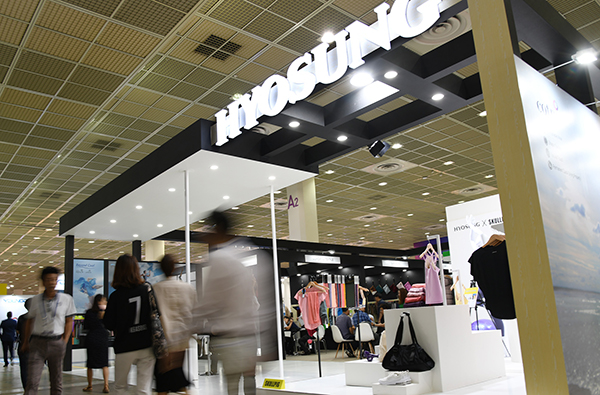 At the 20th Preview in Seoul (PIS) held in Seoul, South Korea for three days from August 28 to 30, Hyosung has presented yarns that are differentiated in everyday life. PIS, which started in 2000 and celebrates its 20th anniversary this year, is an international textile exhibition that has contributed to expanding the exports of Korean textile and fashion companies as well as promoting domestic trade.

Hyosung is participating in this exhibition with garments developed in collaboration with SKULLPIG, Korea's rising yoga apparel brand. This collaboration is designed to promote various ways of using Hyosung's functional yarns and boost sales in the fashion market where the boundary between sportswear and everyday clothes is disappearing. At PIS, Hyosung is presenting leggings and t-shirt items that represent the athleisure look. It focused on providing the functionality of sportswear, such as yoga and fitness clothes, as well as highlighting their style as a fashion item in everyday life.

The yoga apparel market best demonstrates the "crossover" fashion trend, a mix of different genres and styles. Recently, a single item tends to be used in various ways, such as clothes for sports and outdoor activities, casual wear, lingerie, and swimwear. According to Technavio, a global market research firm headquartered in the UK, the global yoga population was estimated to be around 300 million as of November 2018, and the global yoga wear market will grow at an annual average rate of more than 6% from 2019 to 2023.

Hyosung is also introducing eco-friendly yarns, such as polyester regen® which recycled plastic bottles and nylon MIPAN regen® which recycled waste generated in the manufacturing process, in line with the PIS's theme "Good-Circle," which is also the biggest topic in today's fashion industry. Spandex creora® ActiFit for extreme sports, which has been introduced to the Korean market for the first time, is a product with enhanced spandex's characteristics of elastic extension and recovery. While centering on ActiFit, which is durable against UV rays and chlorine, Hyosung is also exhibiting nylon MIPAN aqua X®, which gives a cooling sensation to the fabric, polyester askin, and creora® Fresh that neutralizes the smell of sweat.

Hyosung Chairman Hyun-Joon Cho said, "Listening to the voice of customers at sites is the starting point and indicator of Hyosung's technology development and quality innovation. Beyond supplying good products to customers, we will proactively identify their needs more accurately and concentrate all our capabilities to solidify our position as the world's number one company."

This PIS is joined by a total of 420 companies, including 215 Korean and 209 overseas businesses. Considering the recent trends of customers that value the functionality and sustainability of materials, Hyosung's distinctive multi-functional, eco-friendly yarns are expected to attract more attention in the future.
*About Hyosung
Hyosung is a South Korean industrial conglomerate, founded in 1966. It operates in various fields including heavy Industrial machinery, advanced materials, chemical industry, and textiles. Its CEO is Hyun-Joon Cho and the headquarter is in Mapo-gu, Seoul. Hyosung has a global network of about 90 sites in the U.S., China, Europe and other parts of the world, with about 30,000 employees. Tire reinforcements, spandex, and seatbelt yarns are No.1 in global market share.